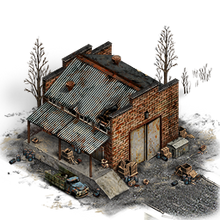 Possible loot: Edit
The loot depends on your location. The more away you are from the starting point, the better loot you will get.
Nailed box
Paper 2-5x
Human Skeleton
Nails 2-5x
Firewood
Blank 10-80x
Canned beef-pork 10-20x
Bicycle spare parts 2-6x
Motorcycle spare parts 2-6x
Auto spare parts 2-6x
Threads 30-150x
Standard clothes
Condensed milk 1-3x
Pickled tomatos, pickles, cabbage 1x
Paper 20-60x
Nails 20-50x
Vodka 1-3x
Wine 1-3x
Tools-(rare) 1x
Coffee 2-4x
Salt 20-60x
Knife 1x
Broken car battery 1x
Cloth 10-20x
Insulating tape 20-60x
Soap 10-50x
Rope 5-10x
Scrap 100-300x
Steel cable 2-5x
Rubber parts 1-2x
Primus stove(rare) 1x
Chainsaw(rare) 1x
Schoolbooks 1-3x
...
Community content is available under
CC-BY-SA
unless otherwise noted.