Functional UAZ Edit
" UAZ-469 off-road car, commonly known as the 'Uazik.' Needs gasoline. "
A military jeep has a high carrying capacity, slower than the GAZ-24 but fast off-roading speed. It has high fuel consumption. Overall, not worth assembling.
Obtaining Edit
Shopping
Edit
The UAZ-469 can be purchased in the shop for 1,000 caps.
Requires the following materials :
Requires the following tools :
Results :
Real Life Edit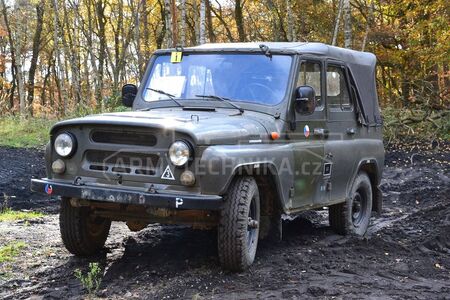 In real life, the UAZ-469 is a light military off-road vehicle used by the Soviet and other armed forces. Developed by the Ulyanovsk Avtomobilny Zavod and still produced to this day.
A functional UAZ-469 could be found at the bandits' base at Isilkul.
The broken UAZ icon shows its rear tires are flat, but when disassembled, the rear tires are fixed up.
Community content is available under
CC-BY-SA
unless otherwise noted.