" Seven or eight wooden shacks surrounded by a high palisade. The inhabitants, around 20 people, eat whatever they can fish or hunt. Almost everyone is female, but nobody shirks the dirty work: from repairing an old diesel generator to splitting firewood. "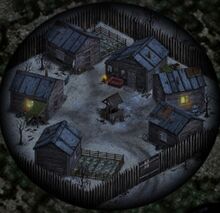 This is most likely the second survivor camp the player will reach, it's located southwest of Moscow, and it's necessary to visit this camp to complete the Searching for Truth quest.
Residents Edit
The camp has a total of 3 residents the player can talk to, besides the bunkhouse owner.

Vanya (Image missing)
Community content is available under
CC-BY-SA
unless otherwise noted.