Sasha is the main character's daughter. She developed hatred towards him.
When you start the game the protagonist only remembers her as a little girl, but when he reaches Abakan Bandit Camp, she is now grown up and part of the bandit group.
During the first time they meet, Sasha stabs her father, if you make the wrong choice, and when he saw her face, she understood that she met her dad and then her face becomes full of hatred.
After the main character faints due to loss of blood, he finds out that Boris rescued him and put Sasha in jail. He talks to Sasha behind bars.
He makes a plan to free her. However during the escape, Sasha is injured and her father heals her. Then once she is healed her fellow looters come and pick her up.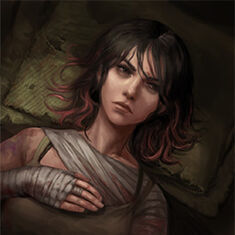 Community content is available under
CC-BY-SA
unless otherwise noted.