Information on this page is accurate for version v.670 and can differ from the current info in v.681.
" The inhabitants of Petropavlovsk survived the first and toughest years thanks to their brave foragers, who brought sacks of flour, cans, grain and even technical equipment book from the destroyed city. Now they keep chickens, grow vegetables and can defend themselves against bandits. "
Details
Petropavlovsk survivor camp is where Engineer Rodkin is found and in order to get him, all inhabitants' quests at this location must be completed first.
Residents
Mikhail
Trader
Bunkhouse Owner
Trader (v.664)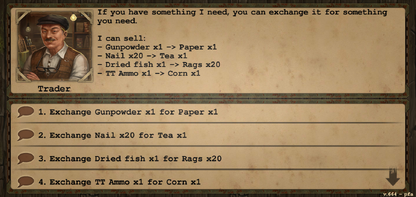 Quests
Quests available on the location site.
Quests from other camps related to this location:
Community content is available under
CC-BY-SA
unless otherwise noted.