Characteristics Edit
Fastest road, off-road and water speed in the game
Very large carrying capacity
Great for travelling to far places no matter where they are due to it not being affected by terrain
Infinite Mileage
Very hard to obtain
One of the most valuable vehicles in the game
Uses diesel. High fuel consumption
Cargo helicopter, speed unaffected by terrain. Great for trading lightweight items quickly. It doesn't wear out.
Obtaining Edit
Crafting Edit
Recipe is unlocked at mechanics skill level 13
Requires the following materials :
Requires the following tools :
Results :

Mi-8 x1
Shopping Edit
Mi-8 is available for 75000 in the shop.
Broken Mi-8 Edit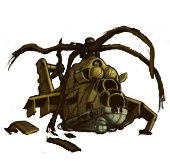 A broken Mi-8 is located in the Airport just outside Moscow (was Mi-24 before V.607 update and was near Arkhangelsk before V.596 update).
Real World Edit
The 
Mil Mi-8
  is a medium twin-turbine helicopter, originally designed by the Soviet Union, and now produced by Russia. In addition to its most common role as a transport helicopter, the Mi-8 is also used as an airborne command post, armed gunship, and reconnaissance platform.
Community content is available under
CC-BY-SA
unless otherwise noted.