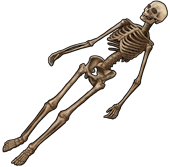 The remains of a long dead human.
For more information about other skeletons visit Skeleton.
Obtaining
Edit
Human skeleton are commonly revealed in cities buildings when using the "searching" action. Loot depends on building type : for example, military building skeletons contain military equipement.
Need :
Human skeleton (not searched) x1
Result:
Random item of varying quality
Human skeleton (searched) x1
Need :
Result :
Possible loot
Edit
Loot depends on the type of skeleton(ie: all full blue skeletons are police officers and tend to give pm shell casings and broken makarovs)
Community content is available under
CC-BY-SA
unless otherwise noted.