" A military uniform supplemented by a steel helmet and bulletproof vest, it is equally suited for both the battlefield and the post-nuclear world, where danger lurks around every corner. "
A military field uniform, that provides more protection than the military uniform, can be used as an alternative to the Highway Armor, as it can be easily repaired.
It can be useful for fighting Crazy people, Looters or animals such as wolves and lynxes. It has a low decay rate and decent radiation resistance for early game, but it might be difficult to carry if you don't have a Motorcycle or a car.
Obtaining Edit
Shopping
Edit


Pick up
Requires the following materials :
Requires the following tools :
Results :
Requires the following materials :
Results :
The bulletproof vest in the game is based on the 6B2 which was used in the 80´s by Soviet Army.
The boots look strangely modern for the 80´s.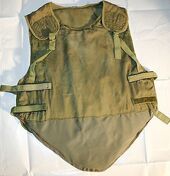 Community content is available under
CC-BY-SA
unless otherwise noted.