Version 638 has introduced changes to the leveling/crafting system. A lot of the information found in this guide is available in-game but this guide may help new/returning players understand the system.
Crafting tab has a new layout
Leveling up is required to unlock recipes
Recipes are unlocked using Research Points
Cooking is now done by clicking the fork and knife icon located in the first cell in crafting tab
Only hut, fire, torch, clean water, sterile bandage, and handmade spear are available at the start of the game
All crafting recipes are arranged in a grid according to the level required to unlock each recipe
Recipes can be sorted from the left of the screen
By default everything is visible
Optional sorting for housing, health, tools, weapons, chemistry, armor, and vehicles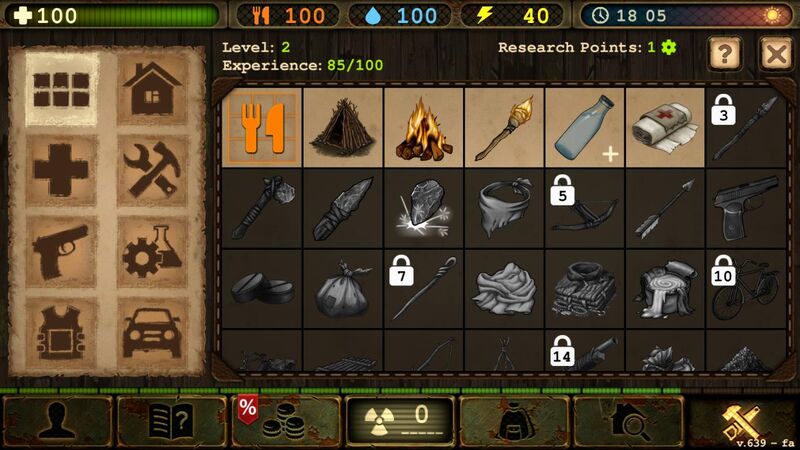 Note: Some recipes such as Rifle Ammo can only be accessed by clicking on the ammo icon in-game and sorting with the tabs at the top of the screen. This is denoted with the "+" symbol on the bottom right of some icons

.
Blacksmithing has been combined into the Tool Kit, Nails, and Steels Tools icons
Leveling and Research Points
[
edit
|
edit source
]
Levels range from 1-100 with increasing amounts of experience needed to attain the next level
Upon leveling up, new recipes are unlock for the appropriate level at 3, 5, 7, 10, continuing until you reach the maximum level of 100
Upon leveling up, you will also receive research points for select recipes you wish to unlock
All recipes can be unlocked.
Note: If you updated the game to v.368 from a previous version, the game will assign your character a level and research points based on your progress in the previous version (possibly using the old skill experience system)
See recipes and Cooking system.
Cooking is now done by clicking the fork and knife icon in crafting. Clicking this will open a new interface.
Any corrections, modifications, or clarifications are appreciated! I will add more to this guide later if it actually helps anyone.
Community content is available under
CC-BY-SA
unless otherwise noted.