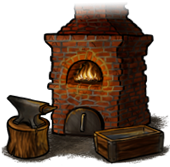 Blacksmithing is the ability to craft items and materials out of scrap metal.
Experience
| Level | 1 | 2 | 3 | 4 | 5 | 6 | 7 | 8 |
| --- | --- | --- | --- | --- | --- | --- | --- | --- |
| Required XP | 50 | 100 | 250 | 500 | 1000 | 2500 | 5000 | Max |
Leveling up
Scrap item
At first, you won't even be able to use a forge to level up. Completing the blacksmithing quest will be the only way to gain XP for the first blacksmithing level. The quest is found on Tula (southwest of moscow) where you are given a quest by a survivor named ignat. Once finished, you can go to ignat's "eternal" furnace to begin.
Note: ignat's furnace is "eternal" because it doesn't extinguish. Sadly, you can't build a workbench there.
The following list will provide scrapable items. Notice cans, iron bolts, nails, makarov parts, revolver parts, spark plugs, and wires do not need a hacksaw for scraping.
NOTE: After big update (v.593), scrapable items are not giving any XP so the table down below is not needed.
THERE ARE 2 WAYS FOR YOU TO REACH BLACKSMITHING SKILL LV1.
-1: COMPLETE THE QUEST IN TULA (i don't really remember the name)
-2: MAKE YOUR MECHANICS SKILL TO LV8
GET 100 SCRAPS, TOOLS THAT HAVE MORE THAN 50 USES, 100 COAL 100 FIREWOOD
FIND A LV3 BANDIT CITY BASE (the one looks like military base), BEAT THE STORAGE ROOM, THE LOWEST LEFT
BEAT THAT ROOM, AFTER THAT YOU WILL FIND A FORGE CHIMNEY AND A BELLOW
NOW MAKE 50 IRON BOLT FROM MECHANICS SKILL LV8 EACH ONE WILL GIVE YOU 1XP FOR BLACK SMITHING SKILL
WHEN YOU REACH LV1, IT IS ALLOWS YOU TO BUILD A FORGE CHIMNEY AT YOUR BASE AND MAKE BELLOWS, STAY TO BEAT THE WHOLE BANDIT BASE OR LEAVE IS UP TO YOU.
I HOPE THIS CAN HELP YOU.
Crafting
Once you can craft bellows and build a forge, the most efficient way to level up is to craft items. Iron pipes are strongly recommended, as they provide 10 Xp per bellows use, and they are needed in multiple crafting recipes.
Appart from the recipes listed above, you can get some blacksmithing xp with the following recipes :
Blacksmithing 1
Blacksmithing 2
Blacksmithing 3
Blacksmithing 4
Blacksmithing 5
Blacksmithing 6
Blacksmithing 7