" The Bicycle significantly increases the speed of your movement in the area "
Characteristics
Slow speed.
Obtainable early in the game.
Small carrying capacity.
Unusable with leg trauma.
Uses no fuel.
Details
Is a faster alternative for walking and requires no fuel. Easily obtained and easy to repair. However, it gives no protection and no attacking bonus and travels very slowly on water. Most leg Traumas prevent you from using it for 2-7 days.
May cause Creaky Foot
Combines with cart to make: Bicycle With Cart
Obtaining
Looting
Crafting
The schematics is unlocked at level 2 with ?? research points.
Requires the following materials :
Requires the following tools :
Results :
Actions
Need:
Result:
Repair (+20% Durability):
Requirements
Bicycle spare parts x1
Machine oil x10
Tools
Broken bicycle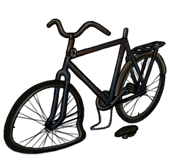 Weight of 1 piece: 20 kg
1x Broken bicycle 1x Tool kit
5x Bicycle spare parts
Community content is available under
CC-BY-SA
unless otherwise noted.