Characteristics Edit
Great water speed. Faster than a non-motorized raft.
Useful for crossing water bodies while still maintaining a large carrying capacity.
Average road and off-road speed.
Large carrying capacity.
Uses Diesel. Average fuel consumption.
ObtainingEdit
Assembling
Edit
Requires the following materials :
Requires the following tools :
Results :
Shopping
Edit
Real-Life Edit
The in-game version of the BAV-485 is based on the BAV-A/ZiL-485A. The BAV (translated to: БАВ, большой автомобиль водоплавающий, Big floating vehicle) was a soviet amphibious vehicle that was patterned after the WWII American DUKW. BAVs were used in service by Warsaw Pact Armies and in the Middle East up to the 1980s. Learn more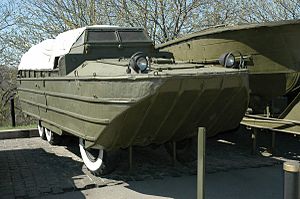 It's the only Vehicle other than the BelAZ that can maintain both good land and water speed
You could get this vehicle by disassembling a BRDM-2 after update 614
Community content is available under
CC-BY-SA
unless otherwise noted.